Saturday, January 23, 2021
White Sands National Park & Lincoln National Forest
ODOMETER: 83,225 |  MILES TRAVELED: 5,280

Today, we had White Sands National Park on our agenda. The weather was beautiful and we were all excited to visit this natural wonder. An added attraction was the fact that you could sled down the snow white sand dunes. 
White Sands National Park raises up from the Tularosa Basin. Great wave-like dunes of gypsum sand cover 275 square miles of desert, creating the world's largest gypsum dunefield. 
Even though I've seen photos of White Sands, I didn't expect it to actually be THAT white. Even from the car, it really looked like snow! There is an 8-mile drive around the dunes with places to stop and explore. Some sections of the road are covered by the sand and plows have had to push it to the side of the road just like snow. It's like walking through snow fields at the beach. I was reminded of another magical Earthly spot: White Haven Beach in the Whitsunday Islands in Australia. The sand there is also so white it looks more like snow.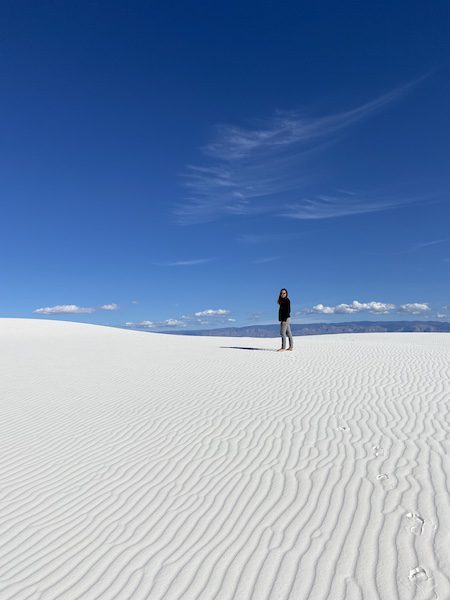 We found a perfect sledding spot that was quiet and had a great time! As one may expect, the sand is not quite as slippery as snow would be so it's important to find a pretty steep dune. Our RV park in Alamogordo even lent us sleds, complete with some wax to make them go faster!
The juxtaposition of the snow white sand, the brilliant blue sky with perfect white clouds and the majestic range of the Sacramento Mountains in the distance made for a once-in-a-lifetime spectacle. It felt like we were suddenly on another planet!
In the afternoon, Grant and I went to explore the Lincoln National Forest near Cloudcroft, about 20 miles back up in the mountains. In those 20 miles, the mountain views are incredible and the landscape changes multiple times.
We came through Cloudcroft and the Lincoln National Forest on our way from Carlsbad to Alamogordo and the pine trees reminded me so much of my European Childhood, I had to go back there before we left the area.
We found a quick 5-mile hike and set out in the clear but chilly and windy afternoon to make it back before dark. It smelled like Christmas and even though it was a relatively short hike at around 8,500 feet, both Grant and I re-emerged from this magical forest feeling cleansed and energized.

It's like walking through snow fields at the beach.
This is a daily log and photos of what we're up to.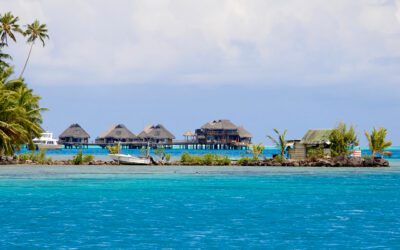 It took us about 24 hours to get from Mo'orea to Bora Bora on August 28 2021. Like the rest of French Polynesia, Bora Bora was in COVID lockdown, and we spent a  week there waiting for our departure paperwork to go through all the requisite bureaucratic channels. This required multiple trips to the local gendarmerie (police station), where Grant quickly befriended the two kind and helpful officers, Alex and Bruno.
We made trips to get water, fuel and provisions, but apart from that we had to stay on the boat. We passed the time snorkeling (saw a giant moray eel!) and inventing new water sports.
Once we received our exit paperwork, we were finally free to leave for Fiji.
read more
These are our personal thoughts on some of our experiences.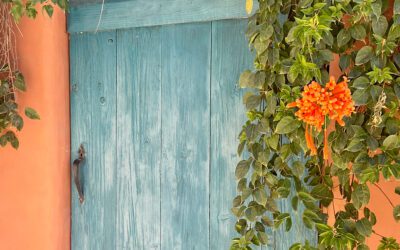 Lessons From the Road | How Big Is Too Big?instagramfacebookyoutubetwitterDoes Our Built Environment Affect Our Relationships? The "Big Mac" symbolizes the belief that more is better. If one beef patty is good, wouldn't two beef patties be better? Similarly, the...
read more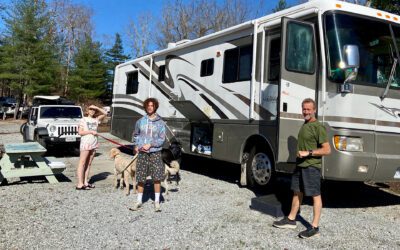 Lessons From the Road | Less is More: Adventure Over StuffinstagramfacebookyoutubetwitterWe have been on the road for about four months, and while that's a relatively short time, I think that some of the big lessons happen in the initial "adjustment period" of an...
read more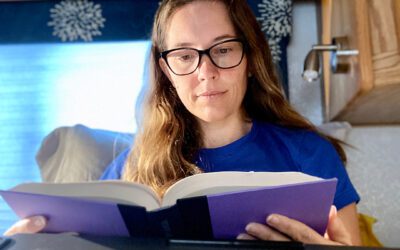 My 10 Favorite Books of 2020instagramfacebookyoutubetwitterWelcome to 2021! Most of us couldn't wait to see the back of 2020, looking forward to better times with hope and anticipation. If you are at all astrologically inclined like I am, you know that on December...
read more