by Jana Gamble
September 27, 2021
 A Long-Awaited Departure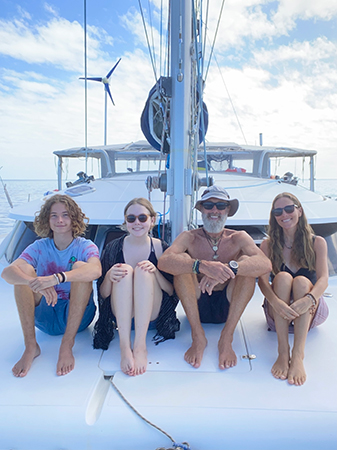 After having waited in French Polynesia for two and a half months, we excitedly sailed out of Bora Bora around 7:30 am on Saturday, September 4th. Like the rest of French Polynesia, Bora Bora was in COVID lockdown, and we had spent the last week waiting for our departure paperwork to go through all the requisite bureaucratic channels. This required multiple trips to the local gendarmerie (police station), where Grant quickly befriended the two kind and helpful officers, Alex and Bruno.
Fear of Open Water Sailing
When we conceived our plan to sail from Tahiti to Brisbane, all ports in the South Pacific were open and we were going to take three months to island hop our way to our final destination. Having had no experience with open water sailing, I wasn't comfortable with the concept and the idea of being on a small boat, days away from land scared me. But I told myself that it was just a fear of the unknown and that it will subside as soon as we are out there. The longest stretch at sea was to be about four days and I thought that while it would be a challenge, I could handle it.

Not having had any experience with open water sailing, I wasn't comfortable with the concept and the idea of being on a small boat, days away from land scared me.
Sea Sickness
I was also anxious about Ellie and me being affected by sea sickness because we both knew that we were susceptible to it. We had been reassured by several experienced sailors that in most cases, people's equilibrium naturally re-calibrates itself after two to three days at sea and their sea sickness subsides. I worried more about Ellie because she has suffered from motion sickness her whole life, whereas I only tended to get sick on a boat.

Two weeks after our arrival in Tahiti in June, all ports in the South Pacific closed due to the quickly spreading COVID Delta variant.
The Watermaker Dilemma
Two weeks after our arrival in Tahiti in June, all ports in the South Pacific closed due to the quickly spreading COVID Delta variant. This completely threw our plans out the window and we were now looking at long passages instead of island hopping. The other challenge that arose with port closures involved two crates of important equipment Grant had shipped from the U.S. to Samoa that we planned to pick up along the way. The equipment included a water maker, which we now saw as essential to complete the long passage to Australia. Our boat, Hanavave, has two 180-liter water tanks on board, but the passage was to take close to a month at sea and 360 liters of water for four or five people did not leave a lot of room for error. It would mean using sea water for cleaning and washing dishes, and we would barely be able to wash our hands and brush our teeth, never mind bathe in any way.
Samoa
We contacted the U.S. Embassy in Samoa and asked for assistance to acquire special permission to enter Samoa under extenuating circumstances so that we could pick up our equipment. Our family was fully vaccinated, we would provide negative COVID PCR tests from our last port and even offered to undergo quarantine if deemed necessary. The Embassy representatives were very kind and helpful and expected to be able to help us. There had been similar cases under the first lockdown that were granted special permission to enter, and they felt that under our circumstances, we were qualified to receive an exemption. The Samoan officials dragged their feet in making their decision and we didn't have an answer by the time we left Tahiti, over two weeks prior. They eventually denied our request, stating that the Delta variant was too high a risk.

They eventually denied our request, stating that the Delta variant was too high a risk.
American Samoa
Our last option was to make the same appeal to American Samoa and get our crates shipped the 100 or so nautical miles from Western Samoa. Since we are all American citizens, we hoped that they would see our case and allow us entry. For almost three months, Grant had tried to get the equipment shipped to Tahiti but COVID had shut down the vast majority of shipping, which in the end thwarted all attempts to move the crates.

This left us with another tough decision: do we delay our trip again and look for another crew member, or do we go it alone?
Passage Crew
Next, we had to consider our overall lack of sailing knowledge and experience. Apart from Grant who has plenty of both, the rest of our family were complete novices. Passage making is a challenging endeavor and requires competent crew members to share watches to cover 24 hours a day of sailing. After some deliberating, we arrived at the conclusion that to be safe, we should find another crew member, one with plenty of sailing and passage making experience. After an extensive and through search, we decided to hire Evan, a skipper from Salem, Massachusetts. Evan joined us in Tahiti in mid-August and sailed with us to Mo'orea and Bora Bora. While in Mo'orea, Evan discovered that his Australian visa would not exempt him from their mandatory 2-week COVID quarantine. He made the decision to return to the U.S. and flew back once we got to Bora Bora.
This left us with another tough decision: do we delay our trip again and look for another crew member, or do we go it alone? Evan was the second failed crew member we had dealt with (the first one was Andrea, who was coming out of Italy and swore he could "talk his way into Tahiti" even though he wasn't fully vaccinated but couldn't) and both ordeals had cost us a lot of money. After a family discussion, we decided that the Universe was telling us to go it alone, so we took on the extra challenge.
Still having no news from American Samoa, we decided to leave anyway. We had been waiting for such a long time, we thought that if we wait any longer, we will never leave. We had several days before we would be reaching American Samoa and figured that we would either hear from them via our satellite connection in the meantime, or we were meant to make it all the way to Fiji and Australia without a watermaker.
First Week at Sea
The first few days of the trip were a mixed bag. The wind was low, our progress was slow, and Ellie and I suffered from sea sickness as expected. We took some sea sickness medication, but it made us very drowsy, so I abstained during times of my watch so that I could relieve Grant and Jack. Despite the low winds, the sea was very messy and made for an uncomfortable ride. We hoped that within a couple of days, we would re-gain our equilibrium and the nausea would subside. My symptoms were the equivalent of a bad hangover, so I couldn't do very much. Ellie's were a little milder, but persisted nonetheless. She tried to sleep as much as possible, which is the best way to pass the time while seasick.
We hit several squalls in the first few days, which always require the skipper's full attention. The squalls brought heavy gusts of wind and torrential rain and it's always best to make sure the wind is behind the boat during these conditions to avoid any surprises. During one of the storms, we collected two 1.25-liter bottles of rainwater via hoses off the bimini. This water tasted better than the marina drinking water we had, so we decided to collect rainwater whenever possible.

I loved this time because we'd have some great talks while playing games and I'd often marvel at Jack and Ellie's wisdom and resilience.
Our Watch Schedule
We divided our days into watches. I started the day with a dawn to 10am shift, followed by Jack from 10am to 2pm, then Grant from 2pm to 6pm. I took over at 6pm and went until 10pm, followed by Jack from 10pm to 2am and Grant from 2am until 6am. Our day shifts were more fluid as most of us were awake during most of the day. Grant had to shift his sleep schedule for his 2am to 6am shift, so he started trying to go to sleep around 6 or 7pm and sleep until 2am. This left Jack, Ellie, and me to look out and share watch responsibilies until Ellie went to sleep. I loved this time because we'd have some great talks while playing games and I'd often marvel at Jack and Ellie's wisdom and resilience. Late at night I stayed up in the saloon, napping on and off throughout Jack's shift until 2am and often through Grant's shift as well. Each time I woke up, I popped my head up and scanned the ocean for any traffic.
The Trouble with Sleep
The first few days were the most challenging as the watch schedule and sleep took their time to shift and solidify. People often ask if sleeping on a boat is a very peaceful experience as you get rocked to sleep by the waves. I would liken sleeping on a sailing boat more to trying to sleep through a natural disaster. Imagine trying to sleep in a house during a tornado and a bombing. At any given moment, there are noises so loud, they cause you to jump up, wondering if a sea monster is taking a sledgehammer to the boat. Anytime the main sail moves from one side to the other, it sounds like a roof is coming off during a hurricane. It is a very sudden, violent, and loud bang, accompanied by creaks of metal from the mast. The waves sometimes crash against the hull and belly of the boat so loudly, you would think that they were bombs, not water. The rest of the time is filled with creaks and moans emitted by different parts of the boat as it tries to glide through the howling winds across the night waters. I had no idea that sleep would be as much of a challenge as it was.
Our Best Friend Wall-E
Our best friend while sailing is our autopilot, whom we affectionately named "Wall-E." We use two GPS systems, one on Grant's phone and the other on an instrument located in the saloon next to the radar. Grant plots our course using a combination of old-school charts and digital maps, then inputs the coordinates into the GPS to set our route. We then manually navigate the boat on course according to the GPS and then set Wall-E to take over. During a long passage such as ours, the course is usually a completely straight line that remains the same for multiple days. If the wind shifts and throws Wall-E off course, he sounds an alarm so that whoever is on watch can manually adjust either a sail or the course and let Wall-E take over again. In this way, it is usually possible to set 20-minute alarms and nap during the night watches. Every 20 minutes, we get up and check our surroundings for any boat traffic. We also check the GPS to make sure we haven't veered off course too much. If there are unusually high winds, storms, or squalls, the skipper takes over and manually navigates the boat.

I would liken sleeping on a sailing boat more to trying to sleep through a natural disaster. Imagine trying to sleep in a house during a tornado and a bombing.
AIS
Another important and useful instrument is the AIS, which is a vessel tracking system. Most boats are registered and tracked through AIS, which sounds an alarm if a boat is within a pre-specified distance (ours is set to two nautical miles). It is still important to regularly eyeball the surrounding seas as there is always a chance of an outlier. Boat sightings in open waters are usually very rare and we saw no boats over the first nine days of our passage. Over the whole 16 days, we came across a grand total of three, all of which were well away from us and our course.
The Weather
Twice a day, Grant uses our satellite connection to download the most current weather forecast. He checks the wind, the radar, and the waves to anticipate anything out of the ordinary and to predict how much progress we will be able to make. We have enough diesel on board (about 420 liters) to motor for about four days. We turn the motors on sparingly when our boat speed goes below three knots, and we have enough fuel to make sure we could motor to safety should anything go wrong.

Twice a day, Grant uses our satellite connection to download the most current weather forecast.
Fly By Excitement on Day 4
In the late afternoon of the fourth day, a plane came out of nowhere, did a flyby over the boat, then ascended and started to turn back around. This was so surreal that all I could think in the moment was: "Please don't shoot." Then the radio came on and the reconnaissance plane announced itself to us as the French Navy. They knew the name of our boat from AIS, the boat tracking system, and wanted to know if everything was ok with us, who was on board, what our nationality was, what our last port of entry was, what our next port of entry will be and when we expected to get there. Grant replied that apart from our ripped jib we were ok, that there were four American nationals on board coming from Bora Bora and heading to Fiji with authorized permission, and we expected to arrive there in 12-13 days.
To be in the open ocean, days away from land, and have a plane do a fly over our boat will go down as one of the most surreal experiences I've ever had. For a moment, it felt like we were in another dimension or just plain hallucinating!

We felt so disheartened by the heartless and inhumane approach of these bureaucrats to a seemingly straightforward scenario.
American Samoa, Part II
Even as we approached American Samoa a week into our passage, there continued to be no news from the authorities there regarding our special request for permission to enter and pick up our equipment. Grant sent the original request two weeks ago and at last check-in, their "COVID taskforce" was still considering it.
Abandoning our plan to sail from Tahiti to Australia would have meant severe financial consequences for our family. Grant felt like we had no choice but to shift our plans from a relatively easy island-hopping adventure to an arduous passage. Even though I was far more reticent to undergo the tough journey, I arrived at the same conclusion.
We spent months in Tahiti trying to manage the logistics of our equipment. In the end, it came down to the option of either picking it up in American Samoa or going all the way to Fiji, an up to 17-day passage, without a water maker. Surely, we thought, the authorities would see our distress.
Sadly, these facts were not enough when it came to the American Samoan authorities making their decision. Each time Grant enquired about whether any progress had been made in reaching their decision, they politely brushed him off. We felt so disheartened by the heartless and inhumane approach of these bureaucrats to a seemingly straightforward scenario. They were willing to let a family run out of water at sea before making an allowance that held very little to no risk, but maybe required some special arrangements.
(Side note: Many people have been inclined to negatively judge the fact that we have chosen to travel during COVID. All of our decisions have been made very carefully and when we embarked on the sailing trip, everything was open with no indication of a possibility of a regression. While I want to acknowledge these negative judgments, I don't feel the need to spend a page defending ourselves. After all, if you're reading this you are likely not one of the nay-sayers and aren't interested in a discussion about whether safe travel during COVID is possible.
As we approached Rose Island, Grant continued to check his email via our satellite connection in hopes of a last-minute positive response. Given the relentless sea sickness and my frayed nerves we needed a respite, but none would be granted. The prospect of another ten days at sea struck me harder than I thought. Given the hardship of the last week, I couldn't fathom being able to endure another ten. Despite my attempts to remain calm and positive, I could feel myself growing more and more anxious and worse yet, a migraine was starting to creep in.
Fear, Anxiety and Sea Sickness
While I was prepared to overcome my anxiety around open water sailing, I didn't anticipate having to do it while sick. This turned out to be a tremendous challenge for me as I had to figure out how to cope with fear, stress, sea sickness, and a migraine without the ability to extract myself from the situation. It became a marathon of mental toughness and perseverance, and I came to rely on my family and my meditation practice for support.
Each morning, I checked in with my mom and sister in Boston via our satellite connection. I'd usually announce that "we're still alive" and give them an update on what's been happening and how we are doing. My sister was incredibly supportive and encouraging and this made all the difference to my ability to push through in my many moments of desperation. Having daily contact with her was my biggest lifeline and I'm forever grateful for her.
While there are no signs of distress in the above video and the experience looks idyllic, the reality of it was different. For a sailing novice like myself, a 15-day passage with sea sickness and a migraine was one of the biggest mindf#@ks of my life. This is hard to convey through a video of this format, but it's important to point out because otherwise we are contributing to the very curated and unrealistic representation of our experiences on social media.
Midnight Drama at Sea
Around one o'clock in the morning on the fifth day, the boat was acting funny. The wind speed was 15-18 knots but felt like it was hollow and had no strength. Grant inspected the main sail and found that the outhaul line had snapped. I watched from the saloon seats as he and Jack started to wrestle the sail into submission so that Grant could fix the problem. The winds were howling at 18 knots and the waves were relentless.
Soon, it became apparent that this was not going to be an easy fix. With Jack at the helm, I helped Grant battle to get the main sail partially restrained so that it could be brought down. It was pitch black under the cloud covered night sky, the winds howled, and the boat rocked violently. Grant tethered himself to the jack line and started to climb on top of the bimini to gain access to the lines.
My heart was beating out of my chest, and I had to take some breaths to calm myself down. It was very important that I kept a visual on Grant the whole time so that I could hear his instructions and requests for tools and equipment over the blizzard-like screams of the wind and in case he went overboard, the thought of which terrified me. As rough as the sea was and in the complete darkness of the howling winds, trying to retrieve him would be like trying to find a needle in a haystack.
I held on to the structure of the bimini tightly, feeling like we were on a violent and unpredictable carnival ride. In the back of my mind, I could feel my nausea rising, but adrenaline kept me focused and hyper vigilant. Grant was operating in a mode drilled into him during his military training, now required by the gravity of our situation. He was able to quickly cut the faulty outhaul line and replace it with the third reef line, a creative solution that saved us a lot of time and stress.
Next, it was time to raise the main sail again, but the task would be challenging with the strong winds and violent seas. I took over the helm from Jack, who was now needed on the bow to help Grant raise the main back up. He tethered himself to the jack line and slowly made his way forward to meet Grant, careful not to lose his balance on the unstable and unpredictable surface of the boat. My task was to make sure the boat pointed squarely into the wind so that Grant and Jack could hoist the heavy sail back up. I focused my eyes on the wind meter and started to turn the boat into the wind. Once I reached and maintained the right position, I let the boys know so that they could raise the sail as quickly as possible. The waves rocked us like a giant seesaw and water was splashing all over the bow of the boat as Jack winched the sail with all his might, under Grant's coaching and encouragement.
Finally, with the sail fully raised the boys returned into the cockpit, and I steered the boat back on course, eventually letting Wall-E take over. Grant had a big gash above his elbow that needed mending and with the adrenaline receding I could now feel the urgency of nausea taking over. I took a sea sickness tablet and lay down across the saloon seats, trying to calm my insides with deep breaths.
The whole ordeal took about an hour, but our team worked calmly and diligently, producing a successful outcome. I was amazed at Grant's quick thinking and creative problem solving, not to mention his acrobatic feats on top of the bimini and on the bow of the boat.
All the while, Jack stayed completely calm and focused, following Grant's directions to every detail. What Jack learned in that hour-long ordeal in the middle of the pitch-black and howling Pacific Ocean is beyond words.

Grant was operating in a mode drilled into him during his military training, now called for by the gravity of our situation.
Week 2 at Sea
Until the last day, the rest of our voyage was relatively drama free. Once we turned from Samoa toward Fiji, the wind picked up and our boat speed increased. The swell and the waves remained unfavorable, so sea sickness persisted.
Apart from skippering the boat and making necessary repairs, we spent our days listening to audiobooks and podcasts, reading actual books, playing games (Rummikub and Uno), meditating, and preparing food. Jack and Ellie dove into the "Harry Potter" series (Jack listened to all seven books twice), "The Hunger Games" series, "The Girl With the Dragon Tattoo" series, "The Hobbit," "The Two Towers," "The Fellowship of the Ring," "The Return of the King," "The Hitchhiker's Guide to the Galaxy," "Ready Player One and Two," "Ender's Game," "Origin," "Life of Pi," and "Humankind." They discussed what they read or listened to and compared notes. They also spent some days coloring and drawing, and Ellie began creating murals she wants to paint on the walls of her next room.
Our food quickly dwindled down to pasta, ramen noodles, eggs, and canned vegetables. We do not have a freezer on board and our small refrigerator keeps things cool but not cold, so after a few days our food supply was down to mainly non-perishables. I also baked bread at sea, but the constant rocking and rolling was preventing my dough from rising properly and the oven was not getting hot enough, so the bread was unfortunately marginal. We also made several batches of vegetable soup out of canned vegetables and that was a much-welcomed addition to our nutritional intake. Nonetheless, we looked forward to fresh produce and Jack to a bacon cheeseburger.
We also very much looked forward to a shower and a laundry room. We will not have had a proper shower since we left Tahiti almost a month ago and all of our laundry and sheets are in desperate need of a washing machine.
Day 15
Our last day at sea turned out to be one of the most challenging. We sailed into a storm very early in the morning, and the winds picked up from the usual 12-15 knots to 20-25 knots. We hit a new boat speed record of 13 knots (our average speed for this passage was 5.5 knots) and Grant sat at the helm for at least 15 hours until we reached our anchorage off Fiji's Denarau Island at ten o'clock that night.
It was a grueling 15 hours, and the ride was very uncomfortable with the swell and waves throwing us around like we were going down a drain. Once we reached the entrance to the channel, we had another 30 nautical miles to reach our anchorage. It was pitch black by now, so Jack and I sat in the saloon constantly looking ahead to make sure our path was clear while Grant sat at the helm. We were all exhausted and sleepy, but the stress was keeping us awake. We had to anchor at night, but the winds had significantly calmed down, so we were able to turn on our anchor alarm and collapse into bed. It felt amazing to sleep in the relative peace of an anchorage compared to the raucous nights at sea.

It was a grueling 15 hours, and the ride was very uncomfortable with the swell and waves throwing us around like we were going down a drain.
Fiji
Having devised a "Blue Lanes" program for safe entry during COVID, Fiji is the only open port on our route. This program requires each vessel to hire an agent, who makes sure that all the entry requirements are sufficiently met. To acquire authorization to enter, we filled out 15 pages of paperwork prior to our departure from French Polynesia. Then, we had to provide negative COVID PCR tests taken within 72 hours of departure from our last port.
Under the Blue Lanes program, the Fijian authorities track each vessel's AIS and count consecutive days spent at sea toward their mandatory 14-day quarantine requirement. Because we were at sea for 15 days, we were not required to quarantine. However, prior to being allowed into port, Fijian health officials came aboard to perform another set of COVID PCR tests. We then had to wait two days for the negative results before we were finally allowed into the marina. This program is cumbersome and expensive (about $2,000 for our family of four), but since we weren't allowed to pick up our water maker, we had no choice but to stop in Fiji.
Our agent, Jo, was incredibly helpful and made the process as seamless as it could have been. She stayed in touch with us throughout our passage and has been a great source of information ever since. Fiji desperately needs the tourism, so boats are welcome with open arms. Still, Fiji is mostly closed so after getting a berth in Denarau Marina, we were not allowed to leave the small island to stay within the quarantine requirements.
There is a small shopping center near the marina with a little grocery store, a bakery, a pharmacy, and two restaurants open for take-out food. Otherwise, everything is closed, and the once vibrant waterfront is much like a ghost town with large cruisers permanently docked, tourist stands shuttered, and police officers constantly patrolling the area.
The facilities at Denarau Marina are amazing compared to the facilities we got used to at Marina Taina in Tahiti. Unlike the prison showers at Marina Taina, the showers here run warm and continuously. The laundry room is clean and costs $5 instead of the $9 per machine. Everything is much less expensive than in Tahiti and communication is a lot easier with everyone speaking English.
The community at the marina mainly consists of New Zealanders, Aussies, and some Americans. The atmosphere is very friendly and welcoming, and everyone is helpful. We had all our repairs done quickly and relatively inexpensively, preparing us for the next leg of our journey.
Since our weather window will not open up for another week or so, we will stay in Fiji and cruise around its islands a little before heading toward Australia. Fiji is a beautiful place, and we are grateful for the opportunity to experience it.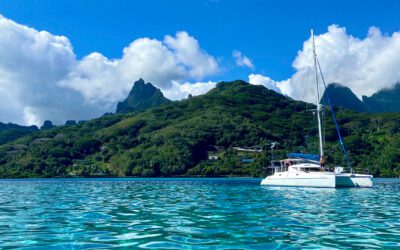 Here is what our second month living on our boat, Hanavave, in Tahiti, French Polynesia, was like.
Our trip to Australia was delayed due to port closures throughout the South Pacific. We spent the month making improvements to Hanavave so that we could make the passage to Australia with fewer stops.
read more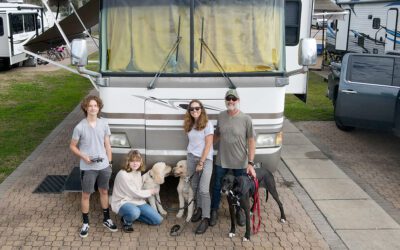 Why We Sold Our Home to Live on a Bus and Travel Full-TimeinstagramfacebookyoutubetwitterAt any other point in time, the decision to sell our home and move into an RV to travel the U.S. full-time with two teenagers and three dogs might be quite ridiculous. But in...
read more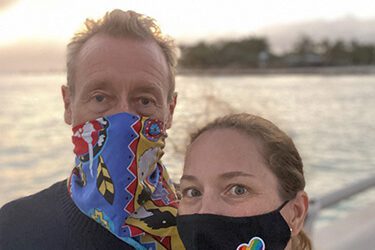 How We Stay Safe & Healthy While Traveling Full-Time during COVID-19instagramfacebookyoutubetwitterby Jana & Grant GambleSome people asked if we were taking unnecessary risks by traveling during COVID-19 and we're sure it's a question on many people's minds...
read more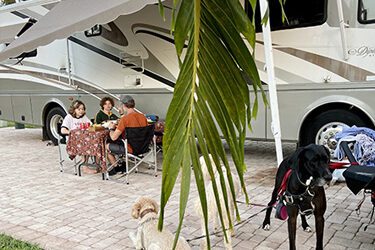 ReflectionReflectionReflectionReflectionOne Month In Thursday, November 26, 2020Thanksgiving Day | Palm Beach Motorcoach Resort, FL ODOMETER: 80,306 | MILES TRAVELED: 2,361instagramfacebookyoutubetwitter by GrantWe're just over 4 weeks into this grand adventure...
read more